News
Categories
Posted by Top LIVIN on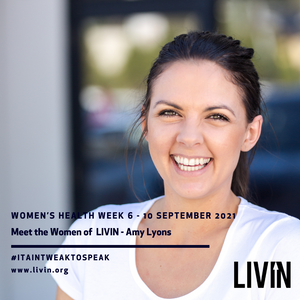 Born in Mackay QLD, Amy is now settled in peaceful in scenic Beechmont with her two greatest achievements – better known as Tilly and Eddy. Amy came to LIVIN after she met Casey and, wanting to be a part of a team that is really making a difference, has been thrilled to have the opportunity to work with such an amazing group of people. Growing up, Amy fancied pursuing a variety of creative endeavours: from filmmaker, to florist, to photographer. She's currently in charge of our LIVINWear, with her tendency towards the multiplicity coming in handy as she takes care...
Posted by Top LIVIN on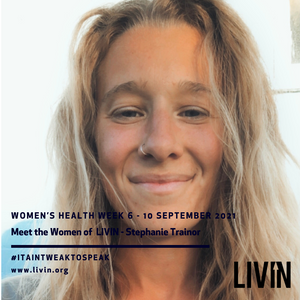 From Sydney, Steph taught herself how to ride a bike as a teenager, dodged a tattoo apprenticeship at 16, later got her undergrad degree in Psychology, and travelled the world to 36 countries, got bitten by a tiger (nice one, South Africa), all before the age of 25! It's no wonder she decided to slow things down and settled into the Central Coast a few years back. Well, the pace may have slowed, but as a yoga teacher with classes geared toward managing trauma and mental health, as well as working with Batyr and as a facilitator with LIVIN, her...
Posted by Top LIVIN on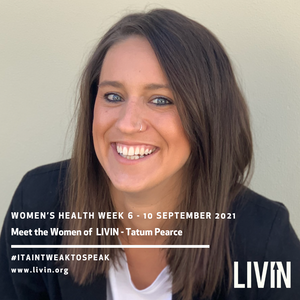 When Tatum was in school, she wanted to be an actress. While the stage is an important part of her work, these days she prefers to be 15 feet to one side or the other, giving directions as an event producer, when she isn't bringing her positivity to LIVIN as a facilitator. "Being able to align with like-minded people who share the same strong passion I have for mental health and helping others", is the highlight to being a part of the LIVIN family, she says, a humble statement that belies a mindset towards actioning kindness and compassion every...
Posted by Top LIVIN on
A strength coach, motivational speaker, mental health advocate, and Sydneysider, Alexa's involvement with LIVIN begins when she met Sam at an event in 2015. Soon after, they were housemates and training partners, and throughout this she was completely sold on the vision for LIVIN. "Everyone has a story," Alexa says, "and sometimes your story is the one they need to hear to start a conversation about their own… that's the most rewarding part." This compassion and empathy are certainly the cornerstone in Alexa's drive to utilise her own lived experience to help others navigate their journey through emotional and psychological...
Posted by Top LIVIN on
  "I think I actually saw someone wearing a shirt on the Gold Coast, and then it magically started appearing in my social media feed!" Tegan says, and we agree – whatever brought her to us must have been magic. She was selected for an international leadership program called Ship for World Youth (Australia, Japan, Palau, the Solomon Islands!); she's been on a tour of duty with the Royal Australian Navy (on deployment to the Middle East); she's even got an electrical trade. From a young age she knew where she was headed though. "I knew I liked solving problems...